A GAMIFIED KNOWLEDGE REINFORCER
WHY QUIZGAME?
Unique "MEANINGFUL GAMIFICATION MECHANICS"
VOLUNTARY ENGAGEMENT to training
RECALL and RETENTION of knowledge with fun
PRACTICAL to re-focus & practice the knowledge
Flexible learning conditions with option to run on MOBILE DEVICES
MOTIVATION with excitement and competition
COMPACT solution for big volume of employees in various locations
Data analysis based on 85 METRICS
GAMES
Having a variety of "games" motivates and encourages employees to go over more questions and spend more time on the training material.
QUARANTINE
This mode has a stock-market-like structure. The previously incorrectly answered questions give more points depending on how many times they were incorrectly answered.
DUEL
Duel is an exciting game mode that allows players to challenge their opponent or friend by taking the same quiz. For some reason, people loved the idea of challenging to their bosses…
GROUP TRIVIA
A gamification mode to heat up the classroom and boost knowledge retention after in-class training. Players are exposed to the same quiz, same questions, at the same time.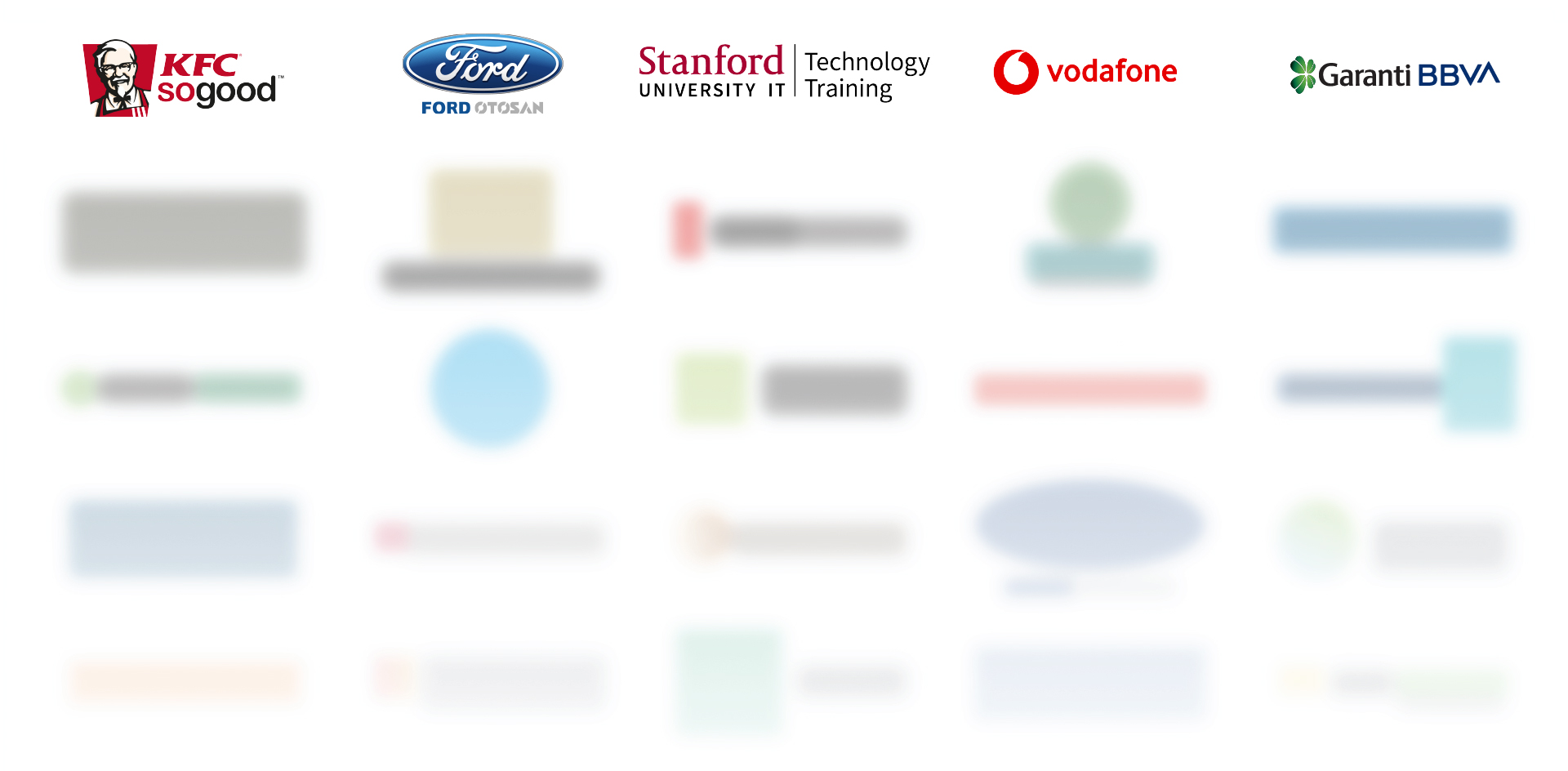 HOW TO USE QUIZGAME
EASY & EFFECTIVE!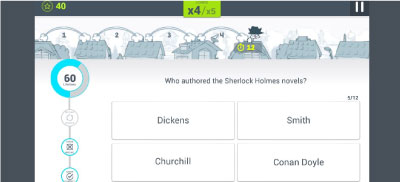 TIC TOC
Kitty will jump from roof to roof with each correct answer.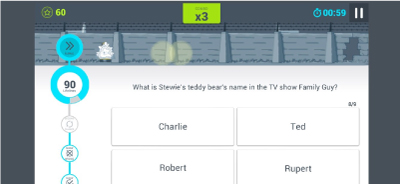 PRISON BREAK
You have a chance to escape from prison.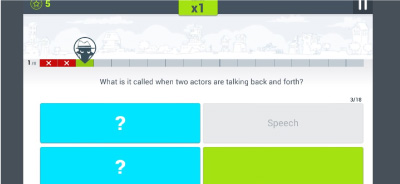 DO OR DIE
You cannot choose an option you previously revealed.
THE BIG ESCAPE
You have to move forward before the wild dog escapes its chains.
SOME FUN FACTS ABOUT QUIZGAME




"It Was Perfect. Our team absolutely loved the game. It provided great fun and competition while making the players learn on the other hand -it was perfect. Thank you to those who made it possible."
Lucy Taylor, Chief Operating Director
KFC
"A Game To Teach, Get Feedback And Measure. For those who would like to use a single game to teach, get reports, and measure all while keeping the participants entertained… We liked QuizGame and benefited from it a lot."
Özlem Yurdakul, Human Resources Director
YUM! Brands
"QuizGame is a tool that transforms learning into play and facilitates competition and increases the durability of knowledge. Our employees loved QuizGame and responded with a lot of attention. What makes QuizGame unique is its user friendliness and feasibility and its ability to report user progress is a huge advantage. We will continue to utilize QuizGame for our future contests."
Nur Sayın, Ziraat Bank Training Technologies
Ziraat Bank
"We thought of QuizGame while we were looking for an alternative to the classic exam and ways for creating competition and entertainment. We increased our company's gamification scope with QuizGame that can be reached both through the web and through mobile platforms. We enhanced the users' motivation through different question formats, duels and repetition and contributed to their progress in learning."
Ümit Evren Demirer, Deniz Academy Education and Development Technologies
Deniz Bank
"It Creates Excitement It is perfect for every team member, every manager. It creates excitement. I personally love it, even when I get an answer wrong. I think that it is a great training tool in a fun way to share with every single one of your restaurant teams and create some competitive energy amongst the team."
Damon Stanley, Chief Operating Manager
YUM! Brands
"Helped Teaching Our Standards. It is very important for global companies to maintain the consistency among products, management and service standards and the same level of quality in all restaurants. QuizGame has helped us teach our standards to our entire team in the fastest, most practical, most entertaining and most competitive way possible."
İpek Kılıççı, Brand Measurement Manager
YUM! Brands
"Learning information with fun makes the trainings more appealing. Quizgame not only keeps the information about the company fresh, but also improves our users in other areas. The easy access of users to QuizGame daily whenever they want facilitates access to training by keeping up with their flexible calendars. Thanks to the fun design and features of QuizGame, learning information with fun makes the trainings more appealing."
Aslı Güzel, Trade Marketing-Retail Development and Digitalization Executive
Vodafone
"It Was Embraced Right Away.This new learning platform we started to use in our corporate training was embraced right away. We've increased participation in our training programs tremendously. From now on, our purpose is to gather all of our employees in a huge tournament and make QuizGame a part of our tradition."
Ozan Akın, Training & Development Group Manage
Nigros
"Kurulduğu günden bu yana teknolojiye büyük önem veren ve sektörümüzde pek çok ilkin öncüsü olan Şirketimiz, 2016 yılında kullanmaya başladığı QuizGame ile eğitim faaliyetlerinin dijitalleşmesinde önemli bir adım attı. Uygulama ile öğrenme süreçlerimizi her yerden erişilebilir hale getirdik ve çalışanlarımızın eğlenerek öğrenmesini sağlayarak bilgilerin kalıcılığını artırdık."
Mert Çabuker
Garanti Emeklilik
" We wanted to create more entertaining in-class trainings and then we met QuizGame. Measuring our employees' knowledge, creating a competitive environment and managing everything in a fun manner was very enjoyable. Next year, we are going to utilize QuizGame again for continuing our trainings and for refreshing and reinforcing prior knowledge."
Pırıl Özdıraz Orhan, Commercial Training & Development
Philip Morris International
"Power Of Games In Adult Education. QuizGame manages to support the retention of post-training knowledge. This is something all education specialists always strive to accomplish through various methods while motivating the players with the game's charm and with prizes and competition. QuizGame does this in the most entertaining manner. It is one of the most effective examples of the power of games in adult education you'll ever see."
Ercan Altuğ Yılmaz, Author of the book Gamification for Everybody

"How Do You Ensure Retention?The academic trainings we organized for our employees were all beneficial; however, the question is how do you ensure retention? This is where QuizGame steps in. Contests have helped retaining the knowledge previously learned in trainings and entertained the users at the same time."
Dikmen Ünal Ünlü, Human Resources Group Manage
Yıldız Holding
"Thank You For Bringing It Into Our Lives I like the application very much. Thank you so much for bringing it into our lives."
Ümit Evren Demirer, Deniz Academy Education and Development Technologies
Deniz Bank