A GAMIFIED KNOWLEDGE REINFORCER
WHY QUIZGAME?
Unique "MEANINGFUL GAMIFICATION MECHANICS"
VOLUNTARY ENGAGEMENT to training
RECALL and RETENTION of knowledge with fun
PRACTICAL to re-focus & practice the knowledge
Flexible learning conditions with option to run on MOBILE DEVICES
MOTIVATION with excitement and competition
COMPACT solution for big volume of employees in various locations
Data analysis based on 85 METRICS
GAMES
Having a variety of "games" motivates and encourages employees to go over more questions and spend more time on the training material.
QUARANTINE
This mode has a stock-market-like structure. The previously incorrectly answered questions give more points depending on how many times they were incorrectly answered.
DUEL
Duel is an exciting game mode that allows players to challenge their opponent or friend by taking the same quiz. For some reason, people loved the idea of challenging to their bosses…
GROUP TRIVIA
A gamification mode to heat up the classroom and boost knowledge retention after in-class training. Players are exposed to the same quiz, same questions, at the same time.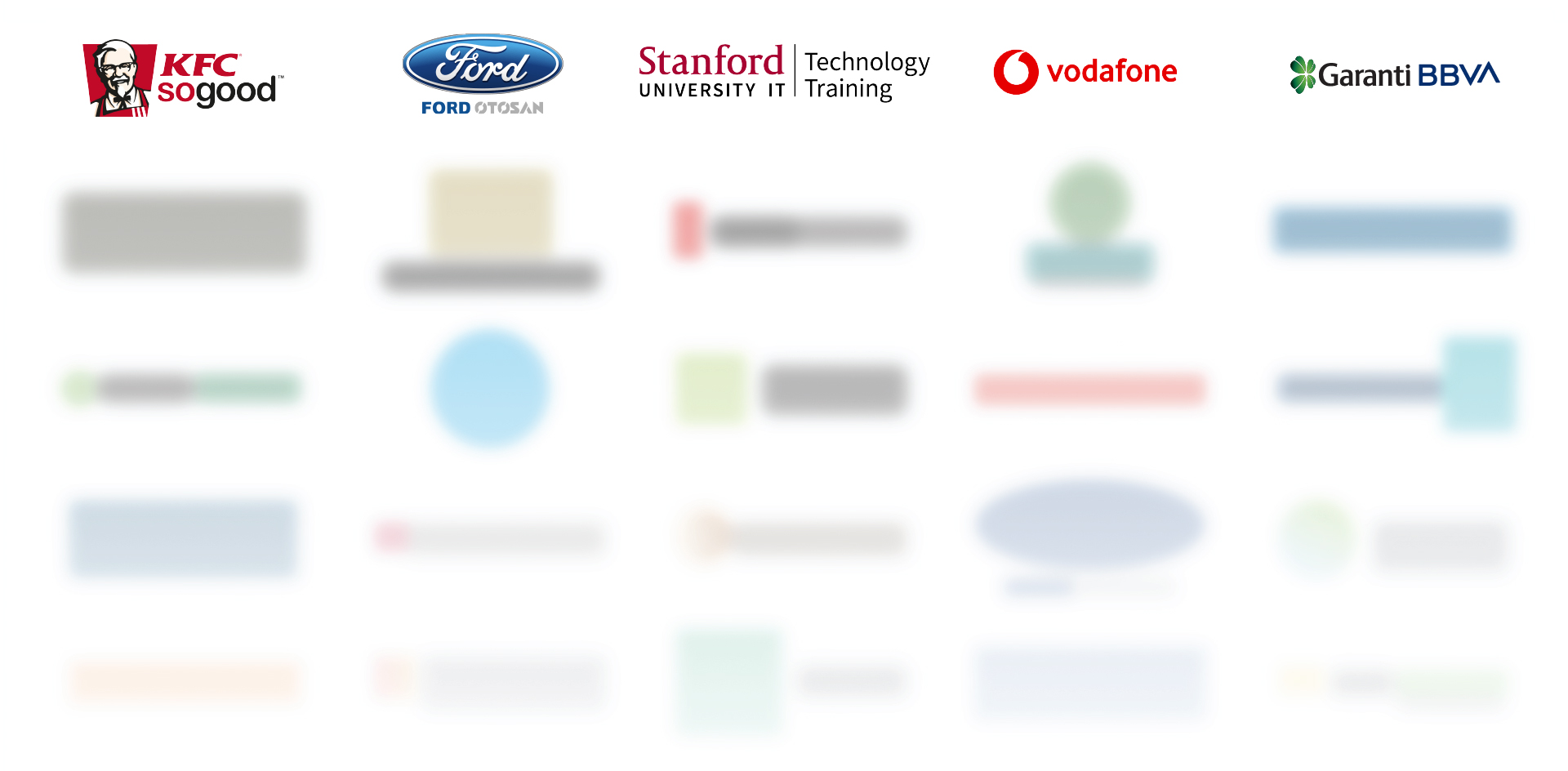 HOW TO USE QUIZGAME
EASY & EFFECTIVE!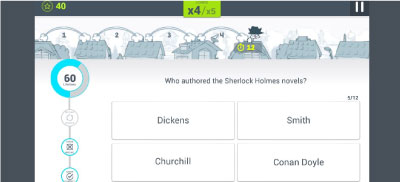 TIC TOC
Kitty will jump from roof to roof with each correct answer.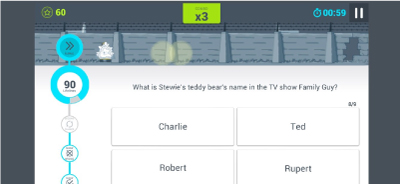 PRISON BREAK
You have a chance to escape from prison.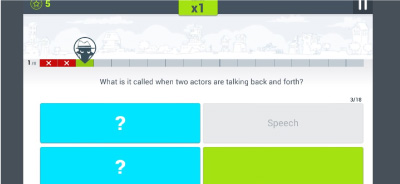 DO OR DIE
You cannot choose an option you previously revealed.
THE BIG ESCAPE
You have to move forward before the wild dog escapes its chains.
SOME FUN FACTS ABOUT QUIZGAME




"It Was Perfect. Our team absolutely loved the game. It provided great fun and competition while making the players learn on the other hand -it was perfect. Thank you to those who made it possible."
Lucy Taylor, Chief Operating Director
KFC
"A Game To Teach, Get Feedback And Measure. For those who would like to use a single game to teach, get reports, and measure all while keeping the participants entertained… We liked QuizGame and benefited from it a lot."
Özlem Yurdakul, Human Resources Director
YUM! Brands
"QuizGame is a tool that transforms learning into play and facilitates competition and increases the durability of knowledge. Our employees loved QuizGame and responded with a lot of attention. What makes QuizGame unique is its user friendliness and feasibility and its ability to report user progress is a huge advantage. We will continue to utilize QuizGame for our future contests."
Nur Sayın, Ziraat Bank Training Technologies
Ziraat Bank
"We thought of QuizGame while we were looking for an alternative to the classic exam and ways for creating competition and entertainment. We increased our company's gamification scope with QuizGame that can be reached both through the web and through mobile platforms. We enhanced the users' motivation through different question formats, duels and repetition and contributed to their progress in learning."
Ümit Evren Demirer, Deniz Academy Education and Development Technologies
Deniz Bank
"As Nobel Pharmaceuticals Nephrology & Hepatology team, the medical learning process within the team is very important for us. QuizGame, with its different game setups, competitive environment and different rewarding systems, makes us excitedly wait for the next game every time."
Gözde Uygan Duruel, Nephrology Product Manager
Nobel Pharmaceuticals
"People voluntarily enter various question pools with the motivation of competition and answer questions, earning points, and thus winning awards in some of our competitions. While the questions are answered with such a motivation from the user point of view, we can take a picture of how permanent the information we convey in our trainings on the basis of all users and make a detailed analysis of the efficiency of the trainings."
Hüseyin Salman, Retail Training Manager
Yves Rocher
"As Kia Turkey, in the process we try to increase the knowledge, the education level and the adaptation to new technology-dependent dynamics of our sales teams, QuizGame gave us the chance to do all these together easily. With the solutions it offers, QuizGame helps our teams experience fun and training together and achieve the result we want, regardless of time and place. "
Melih Sağlam, District Sales Superviser
KIA
"With Quizgame's extremely fast and effective reporting, we can make detailed analyses on the basis of person-region-group-product-subject very quickly,that is, we can see the most common mistakes and the most correctly answered questions very quickly. These reports clearly show in which areas we have the opportunity for improvement of our internal trainers and can help us determine the strategies for our next trainings."
Bahar Paröz DERMAN, Pharma Medical and Marketing Service Manager
Nobel Pharmaceuticals
"Learning information with fun makes the trainings more appealing. QuizGame not only keeps the information about the company fresh, but also improves our users in other areas. The easy access of users to QuizGame daily whenever they want facilitates access to training by keeping up with their flexible calendars. Thanks to the fun design and features of QuizGame, learning information with fun makes the trainings more appealing."
Aslı Güzel, Trade Marketing-Retail Development and Digitalization Executive
Vodafone
"With the digitalization of our orientation event "Geleceğimiz Sizinle", we included the mobile gamification application QuizGame to our event. We spend both informative and enjoyable time with our new employees. We are making the information about our company permanent by gamifying them."
İrem Aşkan, HR Internal Communication
ASELSAN
"It Creates Excitement It is perfect for every team member, every manager. It creates excitement. I personally love it, even when I get an answer wrong. I think that it is a great training tool in a fun way to share with every single one of your restaurant teams and create some competitive energy amongst the team."
Damon Stanley, Chief Operating Manager
YUM! Brands
"QuizGame is an integral part of our onboarding trainings, where we use 100% Digital and Blended Training methodology in Vodafone Turkey Customer Services. Our participants learn while having fun with QuizGame and enter into a joyful rivalry with mini competitions while learning."
Derya Yılmaz, Turkey Customer Services
Vodafone
"It Was Embraced Right Away.This new learning platform we started to use in our corporate training was embraced right away. We've increased participation in our training programs tremendously. From now on, our purpose is to gather all of our employees in a huge tournament and make QuizGame a part of our tradition."
Ozan Akın, Training & Development Group Manage
Migros
"Our company, which has given great importance to technology since its establishment and has been the pioneer of many firsts in our sector, took an important step in the digitalization of training activities with QuizGame, which it started to use in 2016. With the application, we made our learning processes accessible from anywhere and increased the permanence of information by ensuring that our employees learn by having fun."
Mert Çabuker
Garanti Pension
"It works to reinforce the learned subjects in the fastest and easiest way possible, analyzes can be taken easily and it is a user-friendly application, it can be integrated with our own LMS system, it has tools such as live trivia and duel..."
Aylin Kitapçı, Learning and Development Specialist
TPI COMPOSITES
"QuizGame helps to consolidate virtual learning sessions. It is easy to use, encourages play as it is fun. It subtly reinforces knowledge. Sales people were very incentivised when we ran a Christmas Campaign offering prizes for the top 3 in the leaderboard!!"
Maria Etchels, Senior Global Education Manager - Healthcare Medical Affairs & Education
Medela AG
" We wanted to create more entertaining in-class trainings and then we met QuizGame. Measuring our employees' knowledge, creating a competitive environment and managing everything in a fun manner was very enjoyable. Next year, we are going to utilize QuizGame again for continuing our trainings and for refreshing and reinforcing prior knowledge."
Pırıl Özdıraz Orhan, Commercial Training & Development
Philip Morris International



"Power Of Games In Adult Education. QuizGame manages to support the retention of post-training knowledge. This is something all education specialists always strive to accomplish through various methods while motivating the players with the game's charm and with prizes and competition. QuizGame does this in the most entertaining manner. It is one of the most effective examples of the power of games in adult education you'll ever see."
Ercan Altuğ Yılmaz, Author of the book Gamification for Everybody
"Competition of QuizGame users among themselves (duel) kept teams who work in different cities and different units under the same roof together.Especially during the pandemic period, we strengthened team motivation without losing it with dozens of trainings and award-winning competitions we held for all our teams.Our teams express that gamified content for their personal development brings in extra skills to them. Vodafone, which values learning and fast access of new generation employees to knowledge, continues the adventure with QuizGame."
Derya Doğuşlu, Channel Analysis Snr. Assc. Mngr.
Vodafone
"I like the application very much. Thank you so much for bringing it into our lives."
Bilal Çelik, Turkey Operations Director
PizzaHut
"Helped Teaching Our Standards. It is very important for global companies to maintain the consistency among products, management and service standards and the same level of quality in all restaurants. QuizGame has helped us teach our standards to our entire team in the fastest, most practical, most entertaining and most competitive way possible."
İpek Kılıççı, Brand Measurement Manager
YUM! Brands
"QuizGame is an application that constantly encourages learning and contains fun while training. In order to keep up with this development, an application such as QuizGame that constantly improves its technology and infrastructure is needed. Therefore, QuizGame is a very successful application, we thank QuizGame family for providing us the opportunity to learn continuously in such a fun way."
Ferhat Işık, After Sales Technical Executive
KIA




"QuizGame is an addictive learning opportunity for all who have a playful spirit."
Dong Liang, PhD, PMP, PMI-ACP
Instructional Designer/Developer
"We use QuizGame both for learning and for reinforcing what has been learned. We receive the activity reports as a feedback, evaluate the outputs and make improvements where necessary. In this respect, it benefits us both for learning and reinforcement and for measuring the effectiveness of our learning activities."
Banu YILANKAYA, HR Manager
Tempo Call Center